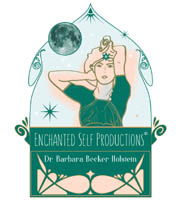 Positive Psychology Through Enchantment

Resilience and self-esteem are the essential ingredients needed for happiness. In all her books and films, Dr Holstein presents positive psychology as entertainment and a means to happiness.
As a positive psychologist it is my mission to teach you to put joy, meaning, fun and a love of life back into your life. What started for me as a research project to see what messages we absorb as girls in our society, led instead to a 'secret' about women of all ages that I felt had to be revealed and repaired. The 'secret' is that we have great capacities for happiness and purpose. However, the dark side of the 'secret' is that we don't know how to use our capacities to our advantage. Sometimes we even forget they are there. The negative results can be incredibly painful. There can be a loss of energy, both physical and emotional, which will interfere with mental health and the fulfillment of one's desires. There can even be chronic depression. My mission is to help you mentally energize so that you can reclaim what is rightfully yours: developing to you full potential. I've heard: 'Be yourself, everyone else is taken!' I add: Be Your Fabulous Self, you and the world will benefit!
Truths Change And Still Remain
A very short film in which a young teen struggles with coming of age issues and finally triumphs as she as we all learn again and again, connects with special people in her life that make the future bright once again. A great film to share in trying times to remind us all that we can go from despair to elation if only we turn to love and connection once again!
The Selfie Project Introduction